The scholarship committee has to read and review hundreds of grant applications daily. This process takes a lot of time to evaluate each application,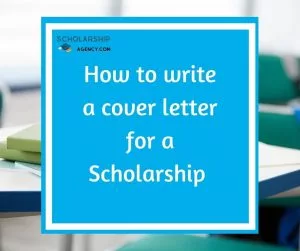 letter, or resume.
To avoid being overwhelmed and save time, committee members often don't examine every paper submitted. They scroll through them, looking only for the relevant information.
In this article, we have discussed a complete guide on how to write a cover letter for a scholarship. It won't take more than 7 minutes to strengthen your grip on the skill of writing a cover letter.
What do we think about a scholarship cover letter?
A cover letter is just like a resume that you use to apply for a job. This includes many things like your basic details, contact details, education, and experience relevant to both your job and volunteer work, etc.
A scholarship cover letter is a kind of application/resume that you write to the scholarship council. Just like a job resume, you talk about yourself, your experience, and your education, and you try to convince why committee members should award you a scholarship.
Things your cover letter should have
Your cover letter has the following information:
Your contact details
Scholarship party contact details
Addressee's name
Body: Include at least four paragraphs

Paragraph 1; You will add your introduction and any achievements related to the scholarship.
Paragraph 2: Give the reason why you are the best fit for the scholarship.
Paragraph 3: Tell them what you're going to do with this scholarship, plus mention the causes why should do they award your scholarship.
Paragraph 4: Call to action like please arrange a meeting with me asap etc.

Closing of the cover letter

Here you will add sincerely along with your name.
Expert Advice: Committees often prefer titles (Mr. Mrs.) followed by a name over a simple greeting (to whom it may concern).
Why Are You the Best Candidate for this Scholarship?
Necessary Formatting
Formatting is an essential aspect of a cover letter. Nobody likes to read a text which is messy and is not organized. Proper use of formatting can double-fold your chances of winning. Here are some tips on how to format a cover letter. You can also make your formatting but follow the rules.
The standard spacing between the lines is 1-1.5. Look for it.
Avoid using justify-content. It is not allowed in business writing.
The margin should be 1-1.3 inches. Don't exceed it.
Use left-aligned text. It's easy to read.
Would you mind not sending your cover letter without signing it? You can also use digital signatures, but signatures by hand are preferred more.
Always save your documents in PDF format as it is a more professional way of sending your copy to someone. Please don't send it in a word file as your file may not be compatible with another person's device and may lose its formatting.
Five tips to rock your cover letter
1- Benefits of P.S. (PostScript):
After completing the cover letter, and after regards/sincerely, use a P.S. Mention there that you're willing to discuss your achievements and performance if they arrange a meeting. You can also tell them you're eager to speak about your volunteer work for society to encourage the authorities to talk with you.
2- Use of clear structure and formatting
Look for errors and grammar mistakes before submitting the cover letter. Review your letter or have someone review it as this will minimize the error if there is any. Make your scholarship cover letter compact and directional. Use a formal tone as it will give a good impression. Make it clear, to the point, and concise.
3- Use the Yale Approach
The Yale Approach is a psychological term that explains people often sense if someone is trying to convince them and show a negative response to the persuasion message. To convince someone, you have to build trust.
Instead of going like this, "I'm a perfect match for this scholarship because I like Astronomy," try to develop some credibility with the committee. Explain to them the projects or work you have done in the past, or talk about some positive vibes. Talking in this manner will give a good impression of your personality.
Which statement best explains a Scholarship?
4- Give your time
A cover letter tells everything about you. Your cover letter plays a better role than your resume in winning a scholarship. Give it proper attention. Invest your good time while crafting a cover letter, as the committee's decision is pretty much based on it.
5- Research your targeted institute
Don't shoot in the dark. Research the institute where you're going to apply. Look for their goals. Make a list.
Expert Advice: Your letter should not exceed more than a single page. To-the-point and concise cover letters are often preferred as they save the time of the reader.
Mistakes that you should avoid while writing a cover letter
1- Improper use of formatting
It would help if you avoided grammatical mistakes. You should sound confident and directional in your writing. Confused and grimy formatting often causes the judges to lose interest in the letter. Follow the above-mentioned or traditional formatting. Use a proper tone, don't be braggy; instead, present yourself genuinely.
2- Overuse of emotions
Using emotions is a nice touch while writing a cover letter. Keep in mind that it should not go beyond the limits. Your letter does not show that you are silly. Avoid complaining about your hard life; instead, tell how you managed to deal with these hardships.
Online cover letter sites
Here are some websites that you should check out to get an idea of how a perfect cover letter looks.
Zety.com
topuniversities.com
Worldscholarshipforum.com
resume.io
scholarship.com
Sample Cover letter
<–Title–>
John Arnold
3242 Fast St
New York, NY
(718) 242-6437
The Scholarship Committee
Howard University
2400 6th St NW
Washington, DC 20059, USA
<–Greetings –>
Dear/Respected/To whom it may concern
<– Body –> 
<–Closing of the letter –>
Regards/Sincerely
John Arnold
Conclusion
Students often hesitate while applying for a scholarship. They think that they won't be able to beat the competition. According to a report, a full 4-year degree now costs up to $100,000+, and this price is skyrocketing. Do you think you can afford it?
If there's an available opportunity, why don't you go for it? Almost 100 million dollars in scholarships go unused. Try it and go for a scholarship. We have a complete guide for a maestro scholarship cover letter. "Break a leg"!