McDonald's has been offering scholarships since 1987. The company provides financial assistance to students who want to pursue higher education at accredited colleges or universities.
McDonald's Scholarships are awarded to high school seniors who demonstrate academic excellence and leadership qualities. McDonald's Scholarship recipients must be from a low-income family, live in the U.S., attend an accredited college or university, maintain good grades, participate in community service activities, and have demonstrated financial need.
McDonald's Scholarships Requirements
To learn more about the McDonald's® Hacer® National Scholarship, check out the requirements below.
You're a high school senior
You're a legal U.S. resident
You're younger than 21 years old
Your GPA is at least 2.8.
You're eligible to attend a two or four-year college or university with a degree program.
You'll be required to disclose other scholarships that you've been awarded.
You'll be enrolled and attend an accredited institution during the academic year after your choice (verification required, as scholarship funds are given directly to the schools).
You have at least 1 parent who has Hispanic heritage
What documents are required?
No essays are required. You must submit
Transcripts
Personal statements
List of community service projects
FAFSA reports, and/or 1040 forms.
How to Write a Letter of Recommendation for Scholarship
Who is eligible?
For this scholarship, financial need must be demonstrated by an expected family contribution of $25,000.00 or less. The EFT (Expected Family Trust) amount is determined by a calculation used by the U. S. Department of Education.
Students must have a minimum cumulative GPA of 2.7 and demonstrate financial need. Students must plan to attend a regionally accrediting institution in the fall of 2022 and must be accepted into an undergraduate program.
Scholarship winners are selected based on academic achievement, financial need, community involvement, personal qualities, and strengths as portrayed during an interview, either in person or by phone. Winners receive notification by mid-February.
How do you apply?
Apply now for the 2021-2021 Award year! Applications close Monday, Jan 31 at 4 pm. If you meet the requirements below you will create an account using the link provided when the application opens and complete the 2021-2022 RMHC Scholarship Eligibility Questionnaire. You will be notified of your scholarship award status in May – June 2022.
Most scholarships are $2000 per year. You should apply early if you want to be considered for this scholarship.
About The RMHC® HACER® Scholarship PROGRAM
The scholarship is provided by Ronald McDonald House Charites of Greater Las Vegas. The money comes from donations made by local McDonald's owners/operators and other local businesses.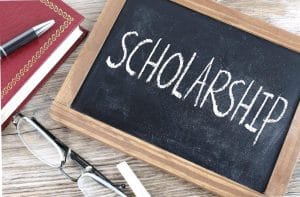 A portion of every Happy Meal or Las Vegas Review-Journal newspaper sold in participating McDonald's Restaurants help fund the RMHC Las Vega Scholarship Program. Between the 2 fundraising sources, Mcdonald's has donated more than $22,000 to the Scholarship Program. This program allows us the opportunity to say to these young adults we believe in you and your futures. We know that a number of these students wouldn't have the chance to go to college it wasn't for the support they're receiving from these scholarships. RMHC of Greater Las vegas also partners with various community organizations to offer additional scholarship opportunities that are unique to our chapter.
This organization is an association of educators who work in education. Its mission is to provide scholarships for high school graduates who want to go to college. Scholarships are awarded to students who meet certain criteria. Applicants must be enrolled in high school or have graduated within the last two years. Students must also be residents of Clark County or Nye County in Nevada. Financial need is important, but so is community involvement.
More Details About RMHC Scholarships
This scholarship is awarded to deserving students who are African American or the Black Caribbean. There are many local RMHC Chapters across America, but not all locations award every one of the four scholarships. Applicants must submit the following documents: Application form, essay, transcript, letter of recommendation, two letters of support, and three essays.
Universities Providing Free Master's Degree Online
Educational transcripts. GPA, which might be subject to minimum standard SAT. Personal statement – education, and career goals, as much as individual qualities that illustrate your strengths are featured in a student essay that is usually held under 1,000 words. Letters of recommendation – Teachers, advisors, and mentees are requested to vouch for your abilities and commitment to education. Background, achievements, and leadership activities are of specific importance, and RMHC says that form letters will be provided low priority for scholarships.
Frequently Asked Questions
Are McDonald's Scholarships Renewable?
McDonald's scholarship programs are typically not renewable. There are a few exceptions though. Your local RMCH chapter may allow you to renew your scholarship if you meet certain requirements. You should also check out your local RMCH chapter's website or contact them directly for more information.
Do You Need to Be a McDonald's Employee to Apply for the Scholarships?
No, The scholarships are open to all students who meet the requirements.
How to Apply for the McDonald's Scholarships?
You must submit an official copy of your high school transcript.
You must provide your SAT/ACT scores.
You must fill out the Free Application for Federal Student Aid (FAFSA).
You must submit your student aid report.
You must include your financial situation.
You must provide information about your first-choice college/university.
You must provide information regarding your involvement in extracurricular activities and any awards/honors you've received.
You must provide detailed information about your involvement in volunteer activities and work/internship experiences.1. Answering 5 short essays on topics ranging from your interests to your career goals to your life experiences to your hobbies to your personality traits.
Two letters of recommendation. One from an employer who knows you well and another from someone who knows you well, but isn't necessarily familiar with your academic history.
A video statement (optional and only for HACER Scholarships). This should give you insight into yourself and how you relate to the world around you.
What is Tuition Assistance?
Tuition assistance is money to help pay tuition costs. Tuition assistance is available to eligible employees who take classes at approved schools.