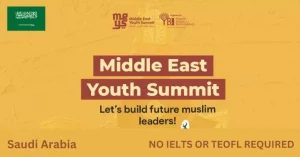 There is a chance for you to attend an international summit in Saudi Arabia named the Middle East Youth Summit in 2023. The applications for this year's summits are open right now. The MEYS is open to all international applicants, from all over the world. The event will be held from February 28 to March 3, 2023, with the theme of "building world civilization with Islamic brotherhood".
More than a hundred people are coming in one. They are going to represent their beloved country to recover and have a better future.
The YBB Conference was organized by Youth Break the Boundaries. The best participants of the international conference will be given awards such as accommodation, expenses, and travel arrangements. Both young men and women are eligible to register for The Middle East Youth Summit.
There are no restrictions on the field or academic background. There are many benefits to this Middle East summit, and you can develop your public speaking and leadership skills as a result. The YBB Summit takes 4 days and 3 nights to complete. So, what are you going to wait for? Don't waste any more time when you get your chance. You have to register yourself now.
All applicants from around the world are eligible to apply. The details about the Middle East Youth Summit in Saudi Arabia are available here. Youth Break the Boundaries (YBB) is a non-Governmental Organization (NGO) that focuses on all instruments regarding the development and empowerment of the youth to prepare excellent future leaders by promoting strong identity and character, and also providing noble values for the youth YBB continues to create new innovations in youth activities in order to achieve consistency in building the youth character. Since the beginning of the year, YBB has been holding international conferences for young people from around the world.
Middle East Youth Summit 2023 in Saudi Arabia:
Host Country:
Summit Location:
MEYS 2023 Duration:
MEYS Saudi Arabia Dates:
February 28 – March 03, 2023
Benefits of the Middle East Youth Summit 2023:
International Symposium on Muslim Community Development
Umrah
Airport Assistance
Hotel and accommodation
Meals (Breakfast, Lunch, Dinner)
Prizes for best Participants
Certificate upon completion
International Experience
International Networking
4 Questions Every Applicant Should Ask About Scholarships
Eligibility Criteria of the Middle East Youth Summit in Saudi Arabia 2023:
Be Muslim
Age 15-35 years old
Open to all nations
Open to all academic backgrounds
Never been convicted of a crime
Not affiliated with any extremist organization
How to Apply for the Middle East Youth Summit (Application Process) 2023
Click on the Apply Now button below to register/apply for the conference.
Sign up, and the email confirmation will be sent to you.
Then sign in to the account, and complete the online application form, with all the basic information.
Prepare an essay related to your ideas about three things below:
Your view about the main problems of the world's Muslim community today.
the solution to the problem.
What you have done to empower the Muslim community around you.
Follow @youthbreaktheboundaries @middleeastyouthsummit on Instagram and TikTok
Join Youth Break Boundaries on the Telegram channel and subscribe to the YBB Foundation YouTube channel for updates.
Upload your best photo with your creative caption using MEYS 2023 FRAME  related to the IYS 2023 theme on a Facebook or Instagram post. Tag @middleeastyouthsummit and 5 of your friends on this post.
MEYS 2023 Application Deadline:
The last date to apply for the Middle East Youth Summit 2022 in Saudi Arabia is the 20th of November 2022 for an Early bid and the 30th of November 2022 for a Late bid