Scholarships help college-bound students begin their journey to success. These offer students with much-needed financial assistance, as well as a certain amount of reputation. A frequent misunderstanding is that only students with the best academic scores or the most spectacular athletic record are eligible for scholarships. All sorts of students can apply for scholarships. Understanding the types of scholarships available and where to seek them is key.
According to a study published by Statista Research Department in 2015, about 50% of students are seeking financial aid to help finance their college education in the United States, and this percentage has dramatically increased to 70% by the year 2018/19.
Let's have a look at the scholarship, and its types and try to explain the term "which statement best explains a scholarship?"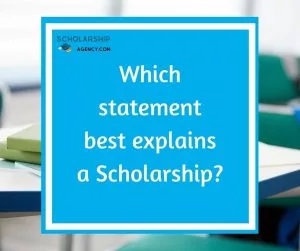 What is a Scholarship?
A scholarship is a type of financial aid or grant awarded by schools or universities to students to assist in their education. The committee can provide it based on performance in studies, achievements in extra-curricular activities, or it is awarded to fulfill the financial need.
Students receive the scholarships in the form of a lump-sum payment, or the scholarship council could hand it over in the shape of sustained installments from duration to duration.
Although some scholarships, once paid, don't ask for any unique demands. There are some scenarios in which the recipient may be expected to continue to satisfy specific conditions, such as maintaining a minimum grade point average (GPA) or participating in a specified activity.
Types of Scholarships
1- Academic Scholarship
Standardized test results and transcripts can be used to provide scholarships to high-achieving students. Several prestigious merit scholarships are available to students who have excelled in the classroom. They are given to students with the highest GPA, the most remarkable extra-curricular activities, and a history of public service.
Academic prizes are usually worth a lot of money and reflect a certain status on the winner. The students may also benefit from a good résumé and good exposure to the corporate world after graduation.
2- Special Students Scholarships
Almost every student, who attends college, experiences stress. For students with learning disabilities, this task may be considered even more difficult. The expense of attending college is a significant source of anxiety for individuals with learning impairments.
There are some scholarships for other limited eligibility to specific disorders, such as ADHD or dyslexia. All of these have the potential to make a student's education more inexpensive.
How to write a cover letter for a Scholarship | Complete Guide
3- Need Based Scholarships
Some students can't attend school being unable to support their lofty finances. Therefore, several organizations like Davis-Putter Scholarship Fund have come forward to help needy students.
Many need-based scholarship programs demand additional criteria, such as residing in a specified location within the United States or studying in a specific field of study. Undergraduate and graduate students, who are under economic and social pressure, can apply for need-based scholarships.
4- Creative Scholarships
Although the arts are a significant part of American culture, there may not be a high number of creative scholarship options accessible to students with an artistic bent. Student applicants must submit samples of their artwork to be eligible for these incredibly competitive scholarships.
Scholarships in the arts require the submission of a portfolio, whereas music grants and other performance-based art forms require an audition, either by video or in person. Whatever your passion is, there could be an applicable scholarship.
5- Athletic Scholarships
As one of the most conspicuous and competitive merit awards available, athletic scholarships are widely sought after. These are often awarded to pupils who have excelled in a particular sporting activity. Students who want to be considered for an athletic scholarship must have a high degree of athletic skill and an excellent academic background.
Coaches and other school officials must nominate students to receive athletic scholarships. However, college recruiters are always looking to hire the best athletes, so competition in this field is somewhat higher. Government-funded sports scholarships are also offered in some countries. Early in your high school career is the ideal time to start thinking about athletic scholarships.
6- Native American Scholarship
Many scholarship options target specific demographic groups. Native American scholarship programs are one of them. Such initiatives aim to provide more affordable college education to students that are from the most underrepresented (and frequently limited income) groups in the population.
In addition to being Native American, other conditions also needed to be met, like major, income level, tribes, and education.
It would be best to keep in mind that a student is expected to prove that he is a Native American in order to qualify for this scholarship, and a DNA test doesn't count among them. Instead, documentation like a Certificate of Degree of Indian or Alaska Native Blood is required.
7- Full ride scholarships
Full-ride scholarships are among the most searched kind of scholarships, as they cover all of the student's tuition expenses. However, financial needs may also be taken into consideration when awarding institutional full-ride scholarships. Even if you aren't interested in attending a school-specific program, you should check out the non-school-specific choices like commitment to join the military, etc.
8- Employer/Military scholarships
A family member's employment is another option for finding money for education. Many businesses provide scholarship programs for workers' children who are in college or are about to enter college. Depending on the company, both eligibility and award levels may differ.
These scholarships let children benefit from their family members' service. Grants like these may include the Military Commander's Scholarship Fund, awarded to the militia's children.
Tools to find scholarship opportunities
There are many tools available online that may help you seek opportunities that best fit your needs. Some of these tools are mentioned below:
Motivation Letter for Scholarship with Examples
1- Scholly
Available both in the form of the mobile app and as an online tool, Scholly has helped students avail more than $70 million in funds. It is a pretty simple and easy-to-use tool. Just make an online account on Scholly, provide the necessary information, including the college you're looking for, and it will automatically sort out all the relevant data for you. One thing to remember is that Scholly is not a free aid. It charges between $8 for a month to $45 for a year
2- American Scholarship.info
At Americanscholarship.info, they understand that paying for college can be a challenge, which is why they have compiled a comprehensive database of scholarships and grants to help you find the financial support you need. From merit-based awards to need-based grants, they have a wide range of options to choose from.
3- Cappex
Providing more than $11 billion in scholarships, Cappex is claimed as one of the U.S.'s most significant scholarship search engines. There are many search options and filters available there. To apply, you have to create an account on Cappex.com. Along with this, Cappex also provides you with reviews of the institutions and offers reviews of the different courses.
4- Chegg
Chegg is a database site that offers many textbooks, flashcards, and other materials related to your study. However, it also has a scholarship finder tool that may help you seek a scholarship based on your GPA, age, year, etc.
Conclusion
No matter what sort of scholarship you are seeking, there is always something for you. To discover more about the different scholarship possibilities available to you, check out our additional scholarship guides. With a little bit of work, you can find a way to pay for your education, regardless of your scores or hobbies.
FAQs
What is a scholarship?
A scholarship is a financial award given to a student to help pay for their education. Scholarships are typically merit-based, meaning they are awarded to students based on their academic achievements, extracurricular activities, and other factors that demonstrate their potential for success.
Who can apply for a scholarship?
Most scholarships are available to high school seniors and current college students. However, some scholarships may also be available to students at other educational levels, such as graduate or doctoral students.
What are the eligibility requirements for scholarships?
Eligibility requirements for scholarships can vary greatly, but some common criteria include:
Being a high school senior or current college student
Having a certain GPA or academic achievement level
Having a specific major or career goal
Being a member of a particular group (such as a minority, a military veteran, or a first-generation college student)
Meeting specific community service or extracurricular activity requirements
How do I find scholarship opportunities?
There are many ways to find scholarship opportunities, including:
Searching online scholarship databases
Checking with your school's financial aid office
Asking your employer or union if they offer any scholarship programs
Looking into scholarship programs offered by professional or industry organizations
Researching scholarship opportunities offered by the college or university you plan to attend
Also at our Website https://scholarshipagency.com
How do I apply for a scholarship?
The application process for scholarships can vary depending on the scholarship provider, but generally, you will need to:
Complete an application form, which may include answering essay questions or providing transcripts and other supporting materials
Submit a resume or CV highlighting your academic and personal accomplishments
Obtain letters of recommendation from teachers, counselors, or other individuals who can speak to your character and potential for success
How much money can I receive from a scholarship?
Scholarship awards can vary greatly in amount, from a few hundred dollars to full tuition. Some scholarships may be renewable for multiple years, while others may be a one-time award.
Can I use a scholarship to pay for any educational expenses?
Yes, scholarships can be used to pay for a variety of educational expenses, including tuition, fees, books, and housing. Be sure to review the specific terms and conditions of the scholarship to determine how the funds can be used.
Do I have to pay back a scholarship?
Generally, scholarships do not have to be repaid. However, some scholarships may have specific requirements, such as maintaining a certain GPA or completing a certain number of community service hours, in order to remain eligible for the award. Be sure to review the terms and conditions of the scholarship carefully to understand any requirements you must meet in order to keep the award.