The Applications are available to apply for the Shanghai Government Scholarships 2021. The SGS is a Fully Funded Scholarships for Bachelors, Masters, and Ph.D. Degree Programs. The Chinese Government reported 20,000 Scholarships in China. All International Students can apply to Study for a Full-time bachelor's, Masters's Degree, or Ph.D. Degree Programs.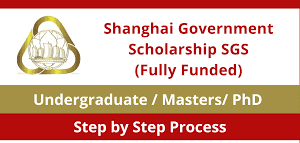 There is No Application Fee Charged by the Shanghai Scholarship. No English Language Requirements. You can apply without the IELTS Requirements. There are No Academic Field Restrictions. Chinese Scholarships are the Largest Scholarship Chain on the planet. It is among one of the Top 7 Largest Scholarships in the World.
The Duration of the Bachelor's Scholarship is as long as 4 Years, Master's Scholarship requires 2-3 years while a Ph.D. degree takes 3 to 4 years. The Shanghai Government Scholarship was set up in 2006. The Full Details about the Nanjing University Chinese Government Scholarship are given below.
Details About Shanghai Government Scholarships 2021
University: Nanjing University
Course Level: Bachelors, Masters, PhD
Duration: 4 Years, 2 Year, 3 Year
Financial Coverage: Fully Funded
Global UGRAD USA Exchange Program Fully Funded | 2021
Duration of the SGS Scholarship
Bachelor's Degree Program: 4 to 5 years
Master's Degree Programs: 2 to 3 years
Doctoral Degree Programs: 3 to 4 years
Available Fields and Majors:
The Shanghai Government Scholarship has 86 Undergraduate Programs, 27 Master, and 43 Doctoral Programs.
International Chinese Studies
Advanced International and Area Studies
Politics
Educational Technology
Teacher Education
Educational Psychology
Education Science
Psychology and Cognitive Science
Business, Economics, Management Administration
Finance and Statics
Design
Software Engineering
Computer Science
Chemistry
Molecular Engineering
Chinese Language & Literature
Philosophy
History
Social Development
Foreign Language
Physical Education and Health Care
Communication
Fine Arts
Geographic Sciences
Ecological and Environmental Sciences
Urban and Regional Sciences
Biology
Key Laboratory of Precision Spectroscopy
Estuary and Coastal Research
Alfalah Scholarships Scheme Form – Apply Now
Financial Coverage in Shanghai Scholarship
Shanghai Government is offering Two Types of Scholarships. Type A (Full Scholarship) & Type B (Partial scholarship)
Type A (Full Scholarship)
Exempt From Full Tuition fee, Registration Fee, Course Fee
Free Accommodation on campus
Provide Free Comprehensive Medical Insurance
Monthly Stipend:
Doctoral program: CNY3500
Graduate program: CNY3000
Undergraduate program: CNY2500
Type B (Partial Scholarship)
Exempt from tuition fees, and provide comprehensive medical insurance.
Eligibility Criteria
Applicants must be non-Chinese citizens and in good health.
Applicants for the pre-college program must have a high school diploma and be under 23.
Applicants for the bachelor's degree program must have a high school diploma and be under 25.
Applicants for the master's degree program must have a bachelor's degree and be under 35.
Applicants for the doctoral degree program must have a master's degree and under 40.
Required Documents
SGS online application form
East China Normal University online application form
Educational Certificates (Notarized)
Copy of Passport
Study Plan, Research plan
Research proposal (If Applicable)
Statement of Purpose
2 Recommendation letters
Academic Resume
Physical Examination Form
Acceptance Letter (if applicable)
Proof of Language
Non-Criminal Certificate
Other Supporting Documents (If any)
Deadline
The Last Date to Apply for the Shanghai Government Scholarship 2021 is May 15th, 2021.
How to Apply
The Applicants Must need to apply Online and
Submit all the Required Documents. To Apply, Please